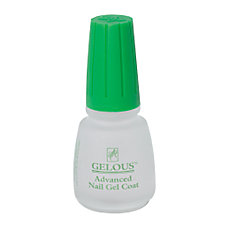 Last month I bought two bottles of Gelous Advanced Nail Gel Coat.
The Lady at Sally's highly recommended it.. I have tried it on at least 7 times now..
and each time it gave me the same results. and I keep trying to like this but… well.. I'll get there in a moment..
First the Pros:
– Super shinny
– Makes your nails nice and hard
– Fills in bumps For example: Rough gritty glitter polish, apply two coats as well as a nice top coat,
Sadly for me.. those are the only Pro's.. But I wont give up! I WANT to like this stuff! I will figure out the best way to wear it.
Please remember Everyone has different chemistry. Everyone's nails will act differently with this product!
Cons:
I have tried different methods, I've used this as a base coat then polish on top, then top coat.. used it alone.. used a base coat, then gelous, then nail polish then top coat.. I've tried every which way, tried different top coats, and base coats with it..
But no matter what I do… It always slides off within 12-24 hours.. 😦
I will end up doing the cutest lil mani and to have it slide off my figures before bed, or during…. it makes me sad..
This is the only con i have found so far.. If I want my mani to fall off that night then I wont have a problem using this.
Con #2, it takes forever to dry.. well maybe a few minutes but I'm so used to dry in ten-twenty seconds type ordeal.. So I just apply a topcoat over it to quickly speed up drying time..
If anyone has any ideas, i wont give up until both bottles are gone, I would love to hear them!